Sedum cauticola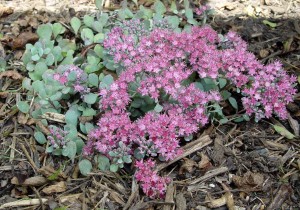 * Common name: Creeping blue stonecrop
* Botanical name: Sedum cauticola
* What it is: A ground-hugging, heat- and drought-tough spreading perennial groundcover with succulent powdery-blue foliage. Gets small rosy-pink flower clusters in late summer and early fall.
* Size: 3 inches tall. Space 2 feet apart.
* Where to use: Ideal edging plant in any hot, sunny and even salty spot (think driveways and front sidewalks). Also good for letting fill in under trees and shrubs in any sunny garden. A no-brainer for a rock garden.
* Care: Water a few times to establish, then water probably never needed again. Fertilizer also usually not needed. Main care is containing spread. Use a shovel at any time to dig and remove sections creeping beyond where you want.
* Great partner: Underneath blue hollies, pink spireas and any pastel rose.