Toad lily
* Common name: Toad lily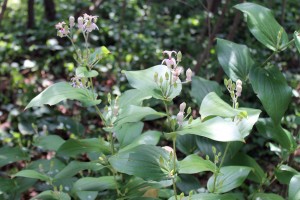 * Botanical name: Tricyrtis species
* What it is: A shade-preferring perennial with star-shaped flowers at the top of lily-like plants. Flowers bloom in September to early October and come in purple-spotted pink, lavender, white or yellow, depending on species. About 20 species are known, all from Asia. Some types spread slowly by clumps, others send out colonizing runners.
* Size: Foliage grows about 2 to 2½ feet tall with flowers extending another few inches. Plant 18 to 24 inches apart.
* Where to use: Toad lilies prefer moist shade and rich, loose soil. Avoid hot, sunny areas. They're ideal for adding late-season color to any shade garden. Colonizing types make good woodland groundcovers.
* Care: Plant in spring and keep soil consistently damp the first full season. Then water when the soil goes dry in a hot summer. Scatter a balanced, organic, granular fertilizer or one labeled for bulbs over the bed in early spring and again in early fall. Let foliage die back with frost and cut it to the ground in fall or at the end of winter.
* Great partners: Interplant with spring bulbs such as Siberian squill or glory-of-the-snow for both spring and fall color in the same space. Azaleas and rhododendrons are good shrub partners.