Phlox 'Shortwood'
* Common name: Tall garden phlox 'Shortwood'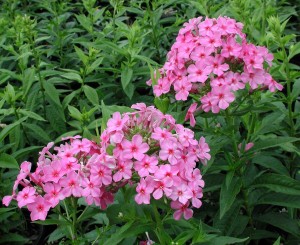 * Botanical name: Phlox paniculata
* What it is: A tall, upright native perennial flower with narrow green leaves and clusters of vivid rosy-pink flowers from July into September. This one is particularly mildew-resistant and was the only variety to score a perfect 5-star rating in Chicago Botanic Garden's phlox trials. Was discovered and introduced by Sinclair Adam, Lebanon County Extension educator and director of the Penn State Trial Gardens in Lancaster County. Named after author Stephanie Cohen's Shortwood home garden near Collegeville.
* Size: 4 feet tall. Space 2 feet apart.
* Where to use: Excellent choice for summer color in any perennial garden or mixed garden. Use toward back of a border since it can top out at 4 feet. Attractive to pollinators. Flowers best in full sun.
* Care: Keep damp the first season, then water usually not needed. Scatter a balanced, organic granular fertilizer over the bed early each spring and once again in June. Snip off flower clusters after bloom to neaten the plant. Cut to the ground after frost browns the foliage in fall or at the end of winter. Dig and divide sections in early spring to expand widening clusters.
* Great partner: Dwarf Russian sage blooms at the same time and color-coordinates in purple. Also blooms in sync with dwarf panicle hydrangeas, such as Bobo, Little Lime and Little Quick Fire.