Christmas fern
* Common name: Christmas fern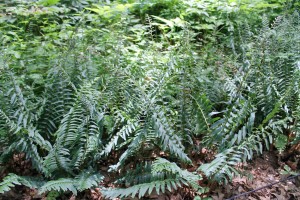 * Botanical name: Polystichum acrostichoides
* What it is: A native fern that grows in loosely arching clumps of leathery, lance-shaped foliage. Christmas fern is evergreen and so offers winter interest in addition to lush green growth all growing season. Deer don't like it, and neither do bugs, rabbits or groundhogs. Won a 2013 Gold Medal Award from the Pennsylvania Horticultural Society as a perennial deserving greater use in the regional landscape.
* Size: 2 feet tall, spreading 2 feet wide and beyond.
* Where to use: Adapts both to dry and damp sites but prefers shade or least shade in the afternoon. An ideal choice as a woodland groundcover or for colonizing a big, shady bank or ravine.
* Care: Keep well watered the first full season until roots establish. Then a weekly soaking is helpful in hot, dry weather but not necessary for survival. Ferns will brown and die back in a drought but usually grow back when rain returns – or the following season. Fertilizer usually not needed. Dig and divide in early spring to expand the planting or control its spread, which isn't overly aggressive. Clip off any ratty foliage as needed.
* Great partner: None needed. Looks best in its own colony. But wide-leafed shade plants such as hosta, coralbells and/or ligularia make good perennial neighbors.