Butterfly weed
* Common name: Butterfly weed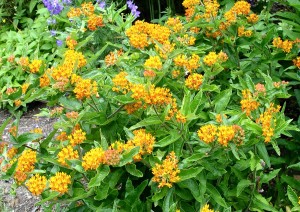 * Botanical name: Asclepias tuberosa
* What it is: A native perennial wildflower and member of the milkweed family that's the necessary egg-laying species for monarch butterflies. Plants grow about 2 feet tall and produce clusters of orange flowers from June through August. Reseeds readily unless you snip off the puffy seed pods before they split open.
* Size: 2 feet tall. Space 2 feet apart.
* Where to use: A top choice for a pollinator garden or butterfly garden. Also works well in any sunny border or perennial garden and tolerates both dry and damp soil, making it a good choice for a rain garden. Flowers best in full sun.
* Care: Keep damp the first season, then water usually not needed. Scatter a balanced, organic granular fertilizer over the bed early each spring, then in-season fertilizer usually isn't needed. Snip off flower clusters after bloom if you don't want reseeding; let pods form, mature and open if you do. Plants don't divide or transplant well. Cut frost-killed foliage to ground at end of winter.
* Great partner: Goldenrod, black-eyed susan and coreopsis are good native perennial partners in colors that pair well with butterfly weed's orange. Also looks good in front of or next to ornamental grasses.