Coralbells 'Electra'
* Common name: Coralbells 'Electra'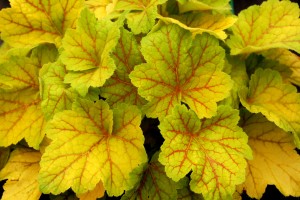 * Botanical name: Heuchera 'Electra'
* What it is: A perennial flower grown mainly for its wide, rounded leaves. This one has golden leaves with red veins. Also gets white, bell-shaped flowers in early summer and is a hybrid of a native species.
* Size: Foliage 8 inches tall… 12 inches counting the flowers. Space 2 feet apart.
* Where to use: North or eastern foundations, toward the front of shady perennial gardens, under trees and in any dappled shade site. Full sun may bleach leaf color. Also does well in pots.
* Care: Keep damp the first season, then water usually not needed. Scatter balanced organic granular fertilizer over the bed in early spring. Snip off flower stems after bloom. Cut browned-out leaves at end of winter but don't cut into the crowns (the fleshy part just above the ground where the leaves emerge).
* Great partner: Astilbe 'Vision in Red' is a good shady-perennial partner. Green-leafed Japanese forestgrass makes a good textural contrast.
— George Weigel