Coralbells 'Citronelle'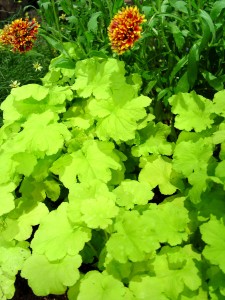 * Common name: Coralbells 'Citronelle'
* Botanical name: Heuchera villosa 'Citronelle'
* What it is: A perennial flower with fan-shaped leaves of bright chartreuse. Gets small, white, bell-shaped hanging flowers on dainty stems in July. Seldom bothered by bugs or animals.
* Size: 1 foot tall, 18 to 24 inches apart.
* Where to use: North or east foundations, edging a shady walk, under trees, any shade garden or place you'd use hosta. No full sun!
* Care: Snip off flower stems after blooms fade. Snip or trim off browned leaves at end of winter. Spring scattering of balanced organic flower fertilizer is optional. Very low maintenance.
* Great partner: Golden variegated Japanese forestgrass (a shade-tolerant grass with golden arching blades). Or plant 'Citronelle' in front of holly or Hinoki cypress.