Crested iris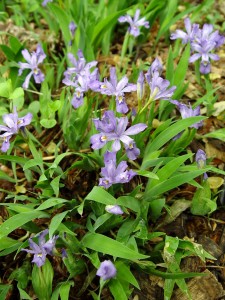 * Common name: Crested iris
* Botanical name: Iris cristata
* What it is: A short, Pennsylvania-native perennial with strappy leaves and "bearded" two-part flowers that open lavender, white or pale blue in April. Deer-resistant.
* Size: 6 inches tall.
* Where to use: Grows best in shade or part shade, although will grow in sun if soil is kept consistently damp. In nature, it's a woodland groundcover plant. Useful as a front-of-bed bloomer in a border garden or foundation planting.
* Care: Cut foliage nearly to the ground after it browns after frost. Fertilize in early spring with a balanced, granular organic fertilizer such as Plant-tone or Flower-tone. Can be divided in early fall.
* Great partner: Plant in front of any rounded shade shrub, such as azalea, boxwood, hydrangea or inkberry holly.