George's Helpful Info You Can Buy
Pennsylvania Getting Started Garden Guide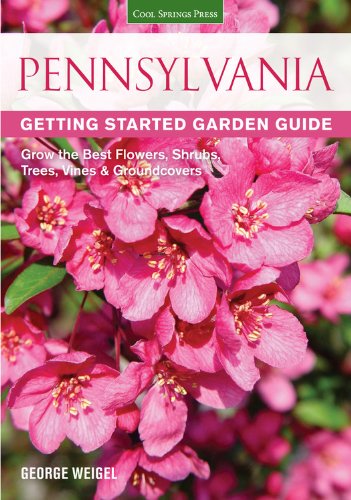 This is my new book from Cool Springs Press, and for your non-plant-killing pleasure, it's loaded with the 170 top plants I'd recommend for Pennsylvania landscapes.
The guide also has chapters on dealing with the intricacies of gardening in Pennsylvania, what to do when things go wrong, places to see the recommended plants in action, and more.
Gravitating toward the best plants will save you tons of money, work and aggravation by lowering the odds that you'll kill things.
I'll pay the sales tax AND autograph your book if you order here. On the order form, specify in "Autograph Name," located under where you enter your address on the order form, if you'd like the book to be autographed to someone other than the name on the order.
---
Yard-Care Survival Manual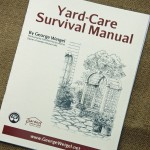 This is a 24-page crash course on yard care, written by George to convey all of those important little tips that you never learned in school but that you're somehow supposed to know. It's a kind of user's manual for the yard. It includes the basics of bed-preparation, tips on correct planting, guides for watering, suggestions on mulch (how much and what kind), helpful charts on what to prune when, weed-fighting strategies and more.
Download Version
$7.95

Print Version
$9.95 + $3 shipping
---
Yard Maintenance Schedule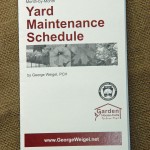 Confused about exactly what you ought to be doing around the landscape when? Here's a handy 16-page booklet that lists the jobs, month by month. It'll not only remind you when to fertilize the flowers or trim the lilacs, it'll keep you from doing the wrong things at the wrong time. The timing is geared to central Pennsylvania (zone 6).
Download Version
$5.95

Print Version
$7.95 + $3 shipping
---
George's Survivor Plants for Central Pa.
All plants are not created equal. Species and their exact varieties can make a big difference. This packet is 18 detailed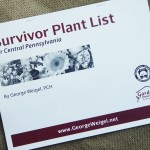 pages of plants George suggests as good performers in central-Pennsylvania's soil and climate. The list is broken down by plant types (trees, evergreens, shrubs, perennials, etc.) with the key stats included for each plant (height, width, preferred sun exposure, bloom time, bloom color and other pertinent attributes, such as fruits, foliage color and pest resistance). It's constantly updated to stay current with the latest plant introductions.
Download Version
$5.95

Print Version
$7.95 + $3 shipping
---
George's Full Document Package
Get the "Survivor Plant List," the "Yard-Care Survival Manual" and "Yard Maintenance Schedule" all for a discounted package price.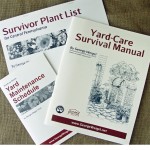 Download Version
$18.00

Print Version
$24.00 + $3 shipping