Allegheny spurge
* Common name: Allegheny spurge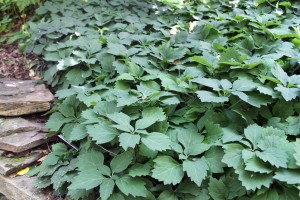 * Botanical name: Pachysandra procumbens
* What it is: A low-growing, spreading, shade-preferring perennial usually seen as a woodland groundcover. This is the U.S. native version of the more common glossy-leafed Japanese pachysandra sold in the groundcover section of garden centers. Allegheny spurge leaves are slightly larger, are evergreen, and are medium green with silver mottling. Clover-like flowers are white, mildly fragrant and appear in early to mid-spring. Deer don't like it.
* Size: Grows 8 to 10 inches tall and spreads 2 feet or more, more slowly than Japanese pachysandra.
* Where to use: Works best as an evergreen groundcover under trees or tall shrubs. Does best in shade or at least out of the afternoon sun. Avoid full-sun locations. Also useful on a shady bank or as a groundcover in a shade garden.
* Care: Water regularly the first year to establish the roots, then spurge can go without water in all but bad droughts – assuming you've planted it in shade. Needs no fertilizer or spraying. Use a shovel to dig out any spread you don't want. Dug-up divisions can be transplanted in early spring.
* Great partner: Mass under any shade tree or plant around the base of tall shrubs, especially other shade-tolerant natives, such as oakleaf hydrangea, fothergilla and arrowwood viburnum.