Zinnia Zahara Series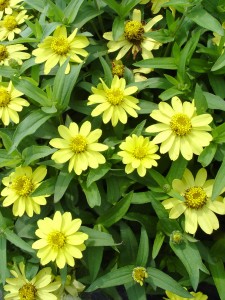 Common name: Zinnia Zahara(TM) series
* Botanical name: Zinnia marylandica
* What it is: A new series of mildew-resistant and fairly compact annual zinnias. Includes a new color in zinnias ('Zahara Yellow'), plus a bright-red version ('Zahara Scarlet'). Heat- and drought-tolerant, too.
* Size: 15-18 inches tall, space 12-15 inches apart.
* Where to use: Sunny foundations, cut-flower gardens and as edging in front of border shrubs and evergreens. Full sun.
* Care: Plant mid to late May. Keep damp the first few weeks, then water only if droughty. Work compost and timed-release flower fertilizer into soil at planting. Supplemental liquid flower fertilizer every month or so throughout the growing season maximizes bloom but isn't required. Yank and compost when finally browns out at end of fall.
* Great partner: Hollies, arborvitae or any green evergreen. Also ornamental grasses.