Ornamental pepper 'Calico'
* Common name: Ornamental pepper 'Calico'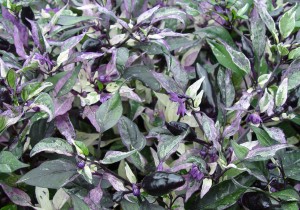 * Botanical name: Capsicum annuum 'Calico'
* What it is: An annual hot pepper that's grown and sold for its ornamental value of variegated green, purple and cream leaves and small, pointed purple fruits that mature red. Peppers are edible but very hot and seedy.
* Size: 12 inches tall with 15-inch spread.
* Where to use: Ideal in a sunny pot but also tough enough and drought-hardy enough to do well in any sunny garden bed, including out front.
* Care: Water daily in a pot, and fertilize with balanced flower fertilizer half-strength every week or two. In the ground, water every few days for the first few weeks, then cut back to once a week in dry weather. A scattering of granular organic flower fertilizer every 6 weeks is helpful. Frost will kill the plants. Save seeds from mature red fruits to start yourself the following spring.
* Great partner: Any purple or white flower, such as purple petunias or salvia or white euphorbia or dusty miller. Pink petunias or pink vinca also make color-complementing neighbors.