Vinca Cora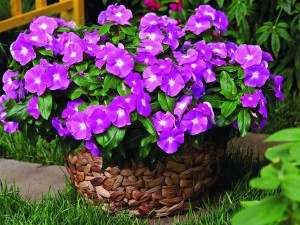 Common name: Vinca Cora(R) series
* Botanical name: Catharanthus roseus
* What it is: A high-performing series of annual vincas that are particularly disease-resistant. Comes in white, pink and other pastel colors. Very heat and drought-tough. Rabbits usually let them alone.
* Size: 12-15 inches tall, space 12 inches apart.
* Where to use: Sunny foundations, massed along borders or spotted in any hot, sunny garden. Full sun/light shade.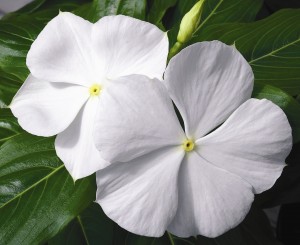 * Care: Plant mid May to early June. Keep damp the first few weeks, then water only if droughty. Work compost and timed-release flower fertilizer into soil at planting. Supplemental liquid flower fertilizer every month or so throughout the growing season maximizes bloom but isn't required. Yank and compost when finally browns out at end of fall.
* Great partner: Blue-tinted junipers or blue mist shrub (Caryopteris).