Swedish ivy 'Mona Lavender'
* Common name: Swedish ivy 'Mona Lavender'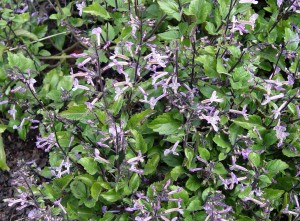 * Botanical name: Plectranthus 'Mona Lavender'
* What it is: An annual flower that has continuous spiked clusters of tubular lavender flowers along its trailing stems of dark-green leaves.
* Size: Billows up to 2 feet tall, spreads 2 feet or more wide.
* Where to use: Best used as a trailer in a shady to partly-shaded pot or hanging basket. Will also climb a few feet up a trellis. And it can be grown as a houseplant in winter.
* Care: Wait until after frost to plant outside (or to move outside if it's doubling as a houseplant). In a pot, water every day or two when it doesn't rain. Fertilize with a half-strength balanced fertilizer every few weeks. Snip anytime if any stems are growing too long. Frost will kill Swedish ivy, so move inside by the end of September if you want to keep 'Mona' going.
* Great partner: Can grow by itself in a hanging basket. In a pot, good color and form partners are Persian shield or pink- or white-leafed caladium.