Mecardonia Gold Dust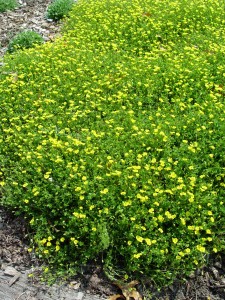 * Common name: Mecardonia Gold Dust(R)
* Botanical name: Mecardonia
* What it is: A short, creeping annual flower that Proven Winners introduced to the U.S. market last summer. The little-leafed plants hug the ground at under 6 inches and bloom profusely all summer in bright gold. Rabbits don't like them.
* Size: 4 to 6 inches tall, 12 to 15 inches apart.
* Where to use: Mass along the front of any sunny garden or along a sidewalk or driveway. Will trail out of a pot or hanging basket.
* Care: Plant mid May to early June. Keep damp the first few weeks, then water only in droughty conditions. Very heat- and drought-tough. At their best in mid-summer. Work compost and timed-release flower fertilizer into soil at planting, then add a liquid flower fertilizer monthly in season (for peak bloom). Yank and compost when frost kills them in fall.
* Great partner: Red marigolds or red celosia are good annual partners. Or use to add a colorful summer "skirt" to hollies, yews, boxwoods or junipers.