Sweet Alyssum Snow Princess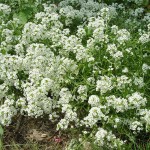 Common name: Sweet alyssum Snow Princess(TM)
* Botanical name: Lobularia
* What it is: A new-for-2010 annual flower with a low, mounding habit and gobs of pure-white pea-sized flower clusters that nearly cover the plant most of the season. 'Snow Princess' blooms well even in summer's heat and keeps going well into November most years. Mildly fragrant. Doesn't reseed.
* Size: 6-8 inches tall, space 12-18 inches apart.
* Where to use: Front of any sunny or partly sunny border. Nice edging annual for walks, too. Full sun to part shade.
* Care: Keep damp the first few weeks, then water only if droughty. Work compost and timed-release flower fertilizer into soil at planting. Supplemental liquid flower fertilizer every month or so throughout the growing season maximizes bloom but isn't required. Yank and compost when it finally browns out at end of fall.
* Great partner: Under, around and in front of any rose. Also nice in front of blue or pink hydrangeas.