Elephant ears Royal Hawaiian 'Black Coral'
* Common name: Elephant ears Royal Hawaiian 'Black Coral'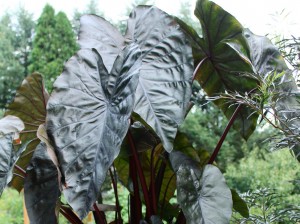 * Botanical name: Colocasia esculenta Royal Hawaiian 'Black Coral'
* What it is: An eye-grabbing tropical with huge leaves that are glossy black and nearly the size and shape of, well, an elephant's ears. The 1- to 2-foot ears form atop stiff, dark stalks that can grow 3 to 4 feet tall. No flowers. It's a tender bulb-like corm grown for the showy foliage.
* Size: 3 to 4 feet tall, 2 to 3 feet wide.
* Where to use: The centerpiece of a big pot is prime real estate for 'Black Coral.' Elephant ears also can be planted in the ground – the wetter the better, including in a bog or the shallow part of a water garden. Full sun to part shade.
* Care: Wait until after frost to plant outside. In a pot, water daily, and fertilize monthly with a liquid, balanced fertilizer. Can be grown indoors over winter as a houseplant. Or the corms can be dug after frost and stored dormant inside in a cool room for re-use the following spring. A freeze will kill them.
* Great partner: Pair with white euphorbia or with pink and/or white begonias and petunias.