Euphorbia 'StarDust White Sparkle'
* Common name: Euphorbia 'StarDust White Sparkle'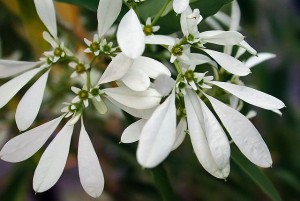 * Botanical name: Euphorbia 'StarDust White Sparkle'
* What it is: An annual flower that grows in a compact mound and is nearly covered by dainty, babys-breath-like flowers all summer. More compact and even heavier in bloom than the excellent 'Diamond Frost.'
* Size: 10 inches tall, 12 inches wide.
* Where to use: Spot as a specimen annual throughout any sunny mixed garden or use in clusters toward the front of sunny gardens. Also does well in pots and flowers nicely in even half-day sun.
* Care: Plant after danger of frost in early to mid-May. Fertilize monthly with a high-phosphorus fertilizer to maximize blooms. In pots, use the same kind of fertilizer every 2 weeks. Will overwinter next to a sunny window inside for planting back out the following spring. Just cut back the leggy inside growth when planting out. Very bug-, disease-, drought- and animal-resistant. If not saving, yank when frost kills them in fall.
* Great partner: Pink shrub rose. Purple or bright-pink petunias make a good annual-flower partner.
— George Weigel