Spreading English yew 'Repandens'
* Common name: Spreading English yew 'Repandens'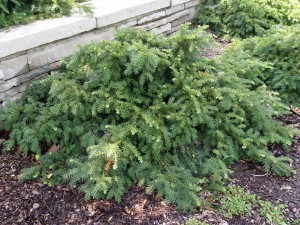 * Botanical name: Taxus baccata 'Repandens'
* What it is: A dark-green, soft-needled evergreen with a wide, loose, spreading habit. Durable and versatile. Gets small red berries that can be toxic to children and pets if eaten.
* Size: 3 to 4 feet tall. Spreads 6 to 8 feet wide. Accepts size-control pruning readily so can be maintained smaller.
* Where to use: Needs well drained soil but will grow in light from full sun to full shade. One of the most shade-tolerant evergreens. Ideal massed on a shady bank or planted under trees (yew is tolerant of tree-root competition).
* Care: Virtually none after watering enough to establish roots over the first year or two. Pruning isn't needed unless plants grow beyond where you want. Best pruning time is between March and July. These look best left to grow naturally as opposed to being sheared. A scattering of an acidifying, organic, granular fertilizer is helpful each spring but not absolutely necessary.
* Great partner: Plant under most any tree, especially large shade trees such as maples and oaks. Yellow or gold-tinted perennials are the best color partners, such as golden variegated liriope, gold-variegated hosta, coralbells 'Citronelle' or 'Caramel' or euphorbia 'Bonfire.'