Japanese plum yew 'Fastigiata'
* Common name: Japanese plum yew 'Fastigiata'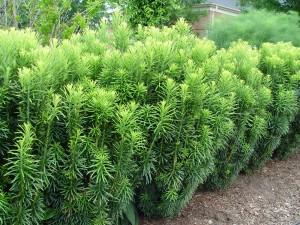 * Botanical name: Cephalotaxus harringtonia 'Fastigiata'
* What it is: A narrow, upright, soft-needled dark-green evergreen that looks a lot like a common yew, except the needles are slightly wider and spaced more openly. 'Fastigiata' grows like a column and produces needled branches that have a somewhat bottle-brush appearance.
* Size: 8 to 10 feet tall but only 3 to 4 feet wide. It's a fairly slow grower.
* Where to use: Anywhere you have tight areas but need something upright, such as flanking a doorway, filling the bare space between two house windows, or edging a patio that's near a property line (for privacy). Will grow in pots, too. Prefers shade or at least afternoon shade, although it can tolerate full sun if the soil is loose and kept damp. A wind-protected spot also is ideal since these are reliably winter-hardy only to Zone 6 (meaning they won't survive in northern Pennsylvania).
* Care: Virtually none after watering enough to establish roots over the first year or two. Once it reaches the size you like, lightly trim each year between the end of March and end of July to maintain that size. A scattering of an acidifying, organic, granular fertilizer is helpful each spring but not absolutely necessary.
* Great partner: Surround with gold or yellow shade perennials, such as barrenwort, dwarf gold-variegated hosta, coralbells 'Citronelle' or euphorbia 'Bonfire.'