Box honeysuckle 'Baggesen's Gold'
* Common name: Box honeysuckle 'Baggesen's Gold'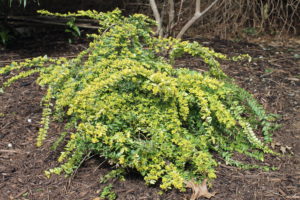 * Botanical name: Lonicera nitida 'Baggesen's Gold'
* What it is: A broad-leaf evergreen with small leaves that look like boxwood leaves. This variety of box (or boxleaf) honeysuckle is unusual for its green/gold to green/chartreuse leaves – very showy. Plant has a trailing habit and sometimes get a few small and mildly fragrant creamy-white flowers in late spring.
* Size: 4 feet tall, 5 feet wide in about 10 years.
* Where to use: Leaves get their richest color in morning sun and afternoon shade or dappled all-day light, although plants will grow in full sun to nearly full shade. Plants can be clipped into hedges or neater forms but look best when left to naturally trail. Good spots include eastern foundations, woodland edges or massed as a flowing groundcover under trees.
* Care: Water deeply once a week in lieu of rain for the first year to establish, then every two weeks in summer if weather is hot and dry. Usually doesn't need fertilizer; at most, a balanced, granular, slow-acting fertilizer each spring. Best pruned, if necessary to control size, right after bloom in late spring. Also can be pruned through August.
* Great partner: Underplant with dark-leafed coralbells or any foamybell variety. Spiky gold-toned plants such as acorus 'Ogon' or gold-variegated Japanese forest grass are good perennial partners. Burgundy coleus is an excellent annual partner.