Arborvitae 'Green Giant'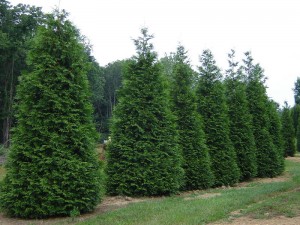 * Common name: Arborvitae 'Green Giant'
* Botanical name: Thuja standishii x plicata 'Green Giant'
* What it is: A tall, upright, fairly narrow, deer-resistant and very fast-growing evergreen (up to 3 feet a year) with soft-needled green foliage.
* Size: 50 feet tall, 12 feet or more wide without pruning. Space 6 to 8 feet apart in screen planting.
* Where to use: Usually used as screen plantings along property borders because of their dense, fast habit. Also nice as evergreen specimens in yard corners. These are narrower than pines, spruce and firs but still can get big, so don't plant close to the house. Can be kept smaller with shearing or pruning. Full sun to light shade.
* Care: Improve soil with compost before planting and keep soil consistently damp (never soggy) for first full year. Fertilizer usually not needed. Pruning not needed so long as space is OK. If pruning needed, do it in spring to early summer and never back into the bare wood.
* Great partner: Black-eyed susans, red or gold daylilies or any bright mums.