PJM rhododendron
* Common name: Rhododendron PJM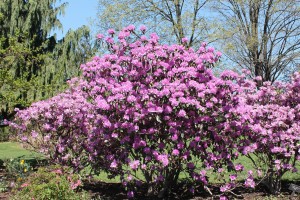 * Botanical name: Rhododendron hybrid
* What it is: An oldie-but-goodie group of small-leafed rhododendrons that are some of the earliest shrubs to bloom in very early spring. Most common one blooms magenta, but varieties available in pink or rose. Foliage turns deep purple in fall. Named for 1940s breeder of them, Peter J. Mezitt.
* Size: 4 to 5 feet tall and wide but can be kept smaller with trimming.
* Where to use: Ideal for shade and part-shade spots, i.e. along eastern or northern foundations or in dappled light around trees.
* Care: Prefers acidic and light, loose, well drained soil and an annual spring scattering of an acidifying, granular, organic fertilizer. Water well weekly the first year and in hot, dry weather but avoid soggy soil. Sometimes attacked by lacebugs; spray with insecticidal soap, if needed. Prune immediately after flowers finish.
* Great partner: Sweet woodruff, dwarf Chinese astilbe and foamflowers all make nice underplantings.