White Oak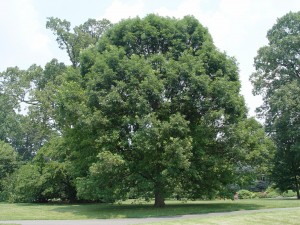 * Common name: White oak
* Botanical name: Quercus alba
* What it is: A deciduous native shade tree that's one of the biggest, strongest and most majestic of American hardwoods. Often matures as wide as it is tall. Leaves are lobed and turn russet-red in fall. Bark is flaky and light gray in color (lighter than other oaks). Also a heavy acorn producer.
* Size: 60 to 80 feet tall and wide.
* Where to use: Specimens in large, open fields and large yards. Full sun. Avoid wet clay and small yards.
* Care: Water deeply once a week in lieu of rain in the first two years to establish, then usually needs no extra water. Fertilizer also usually not needed. Remove lower limbs as the tree grows and keep in mind the mature size to stay well clear of overhead power lines.
* Great partner: Once canopy provides shade, underplant with groundcover of barrenwort, pachysandra, foamflowers or hosta.