Ginkgo 'Princeton Sentry'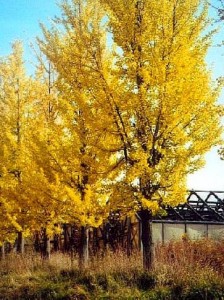 * Common name: Ginkgo 'Princeton Sentry'
* Botanical name: Ginkgo biloba 'Princeton Sentry'
* What it is: A mid-sized deciduous tree with a particularly columnar habit and the distinctive fan-shaped leaves of this Japanese-native species. No discernible flowers but leaves turn brilliant gold in fall.
* Size: 40 feet tall, 15 feet across.
* Where to use: Its strong limbs, narrow form and exceptional durability in urban conditions make it an ideal street tree. Good in any tight and fairly sunny spot where a tree is needed. Also a good choice for near a deck or patio. Tolerates poor, compacted soil.
* Care: Keep soil consistently damp in first year or two until the roots are established, then little or no water needed. No fertilizer needed either. This is a very low-maintenance plant. Just prune off any excess or crossing branches in the early years and, if desired, remove lower limbs as tree grows.
* Great partner: Deutzia 'Nikko' or 'Chardonnay Pearls' are good shrubs under the dappled-light canopy. Coralbells and foamybells are good part-shade perennials; golden creeping sedum 'Angelina' is a good choice as a sunnier groundcover.