Paperbark Maple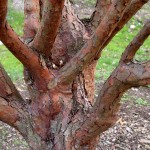 Common name: Paperbark maple
* Botanical name: Acer griseum
* What it is: A slow-growing, mid-sized, deciduous shade tree best known and most loved for its peeling cinnamon-colored bark. Green leaves turn red in fall.
* Size: 20-25 feet tall and 18-20 feet wide in 20 years.
* Where to use: Great front-yard specimen or patio tree (if planted 10 feet away from the patio paving). Also nice centered out any window view for its winter interest. Full sun to part shade.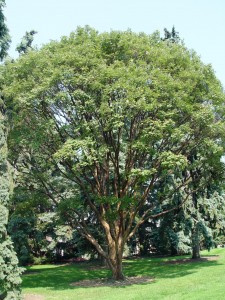 * Care: Scatter organic granular fertilizer such as Tree-tone or Plant-tone under the canopy in March. Keep the roots consistently damp the first 2 to 3 seasons, then soak deeply once a week only if the weather is hot and dry. Remove lowest limbs as the tree grows to expose more of the trunk. Crossing or unwanted branches can be removed mid to late winter.
* Great partner: Creeping sedum 'Angelina' or barrenwort 'Frohnleiten' or 'Sulphureum.'