Dwarf river birch 'Little King'
* Common name: Dwarf river birch 'Little King'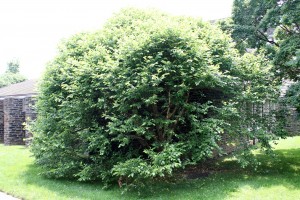 * Botanical name: Betula nigra Fox Valley 'Little King'
* What it is: A small-home-friendly version of our native river birch tree that's more compact and not as fast-growing as the species. Has the same cinnamon-colored peeling bark and yellow fall foliage as river birch, but the growth habit is denser and only a third of the overall size.
* Size: 12 to 15 feet tall and wide.
* Where to use: Excellent choice where soil is wet, such as along a creek bank, in a rain garden or in any low-lying open area. Also makes a good specimen at a house corner or in a small front yard. It'll grow in full sun to part shade.
* Care: Keep consistently damp the first two seasons until roots establish, then soak weekly in hot, dry weather. Fertilizer usually not needed. Can be pruned to a single trunk or left to develop multiple trunks. Prune off excess or crossing branches over winter, and remove lower limbs as desired to expose more of the peeling bark.
* Great partner: Underplant with Pennsylvania sedge, golden variegated sedge or sweet woodruff.