Tricolor beech
*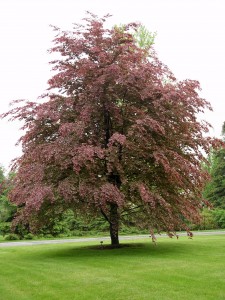 Common name: Tricolor beech
* Botanical name: Fagus sylvatica 'Roseo-Marginata'
* What it is: A slow-growing, mid-sized shade tree with striking three-colored leaves of cream, green and rich pink — especially colorful in spring. Leaves turn coppery in fall. Produces some small beech nuts that drop in fall.
* Size: 30-35 feet tall, 20-25 feet wide.
* Where to use: Great back-yard specimen (or out front, if you have space). These appreciate a little afternoon shade. Leaves can bleach out in hot, dry sites. Also avoid salty or wet sites.
* Care: Scatter organic granular fertilizer such as Tree-tone or Plant-tone under the canopy in March. Keep the roots consistently damp the first 2 to 3 seasons, then soak deeply once a week only if the weather is hot and dry. Remove lowest limbs as the tree grows. Crossing or unwanted branches can be removed mid to late winter.
* Great partner: Hardy ginger and/or blue-leafed hosta make good massed underplantings. Cherry laurel is a good flowering evergreen partner.