Japanese stewartia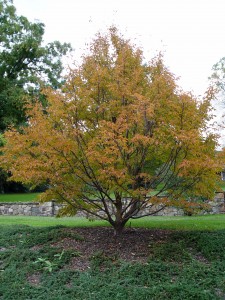 * Common name: Japanese stewartia
* Botanical name: Stewartia pseudocamellia
* What it is: A small, slow-growing ornamental tree with some of the most spectacular fall foliage of any tree or shrub. Leaf colors seem to change daily in fall in a blend of gold, orange and scarlet. Gets white flowers with yellow centers in summer and develops attractive peeling bark as the tree ages.
* Size: 30 feet tall, 15 to 20 feet wide.
* Where to use: Excellent specimen tree in the front yard or next to a deck or patio. Prefers loose, rich and slightly acidic soil. Some afternoon shade is ideal, but full sun OK if the soil is good and the tree gets adequate moisture until the roots establish.
* Care: Prune out crossing or misdirected branches in the early years. Remove lower limbs as the tree grows to expose the bark. Fertilize in spring in early years with acidifying organic granular fertilizer such as Holly-tone or Holly Care, then none needed. Water weekly in first year to establish. After that, water needed only in drought conditions.
* Great partner: St. Johnswort is a good low-shrub partner. Euphorbia or hardy geraniums are good perennial underplantings.