Witch hazel 'Arnold Promise'
* Common name: Witch hazel 'Arnold Promise'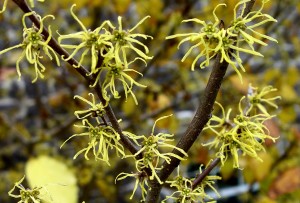 * Botanical name: Hamamelis x intermedia 'Arnold Promise'
* What it is: A small multi-stem tree or large flowering shrub that's one of the year's earliest to bloom – often starting in February. Flowers appear on leafless branches and are yellow with long, narrow, curving petals often described as "spidery" in appearance. Foliage turns a deep maroon-red in fall.
* Size: 15 feet tall and wide.
* Where to use: Ideal as a woodland-edge, understory plant but also attractive enough as a stand-alone specimen at a house corner or in an island bed. Plant several for a natural tall border hedge. Full sun to part shade.
* Care: Prefers damp, acidic soil. Keep soil damp the first year, then water usually only needed during hot, dry spells. No pruning needed unless plant outgrows its space, then thin and shorten right after flowering in early spring. A scattering of a granular, organic, acidifying fertilizer formulated for trees and shrubs once in spring is helpful but not critical.
* Great partner: Winterberry holly takes similar growing conditions and often still has complementing red fruits when 'Arnold Promise' starts flowering. Helleborus is a good, early-flowering perennial to plant under and around.