Hydrangea Incrediball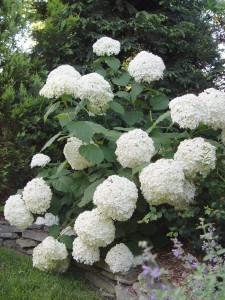 * Common name: Hydrangea Incrediball
* Botanical name: Hydrangea arborescens 'Abetwo'
* What it is: A new version of native hydrangea that gets unusually big flower heads in summer — often as big as a volley ball. The bright-white, round flowers also are held on stiffer stems than older 'Annabelle' types, which tend to look floppy. Incrediball stays more upright.
* Size: 6 feet tall by 5 to 6 feet wide.
* Where to use: These flower well in shade to part shade and so are excellent flowering specimens in a wooded garden or any shade garden. Really impressive when several are planted together in a mass.
* Care: Cut back all growth to about ankle high at the end of winter. Browned-out flower heads can be snipped off any time, or you can let them on all winter if you like the texture of them. An annual spring scattering of Plant-tone or similar balanced organic fertilizer is helpful but usually not necessary. Water needed only in a drought after the first year. Cut a few flowers for arrangements.
* Great partner: Brunnera 'Jack Frost' and astilbe 'Pumila' or 'Visions in Pink' are good shade-perennial partners. Or do a groundcover planting of leadwort.