Caryopteris 'Snow Fairy'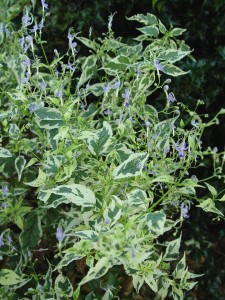 * Common name: Blue mist shrub 'Snow Fairy'
* Botanical name: Caryopteris divaricata 'Snow Fairy'
* What it is: A compact, late-blooming shrub whose main attraction is the bright, white-and-green variegated leaves. Not a heavy bloomer but gets some dainty blue flowers in late summer. Attracts bees and butterflies.
* Size: 3 feet tall and wide.
* Where to use: Labeled for full sun but does best in afternoon shade. Bright but dappled light is ideal. Makes a nice specimen in a foundation bed or in mixed border beds.
* Care: Shear back to 8 or 10 inches in early spring before new growth begins. Scattering of balanced organic fertilizer in April is optional. Water usually needed only in severe dry spell once established.
* Great partner: Astilbe 'Visions in Pink' or 'Pumila,' leadwort, creeping veronica or creeping campanula 'Blue Clips' or 'Blue Waterfall.'