Deutzia Chardonnay Pearls
* Common name: Deutzia Chardonnay Pearls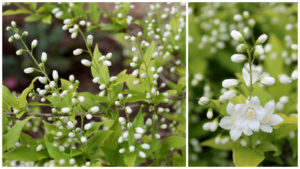 * Botanical name: Deutzia gracilis 'Duncan'
* What it is: A spring-blooming shrub with an arching habit and lemon-yellow leaves. Flower buds look like little white pearls before opening into bell-shaped white flowers in late April to early May.
* Size: 3 to 4 feet tall and wide.
* Where to use: Makes a nice stand-alone shrub along an eastern house foundation or can be massed into a colorful, loose, low hedge. Best in morning sun and afternoon shade or in dappled all-day light. Will grow in full sun, but foliage may slightly blanch.
* Care: No pruning needed so long as size is OK. If size control is needed, shear back by one-third to one-half right after plant finishes blooming. Fertilize in spring with a balanced, granular, organic or slow-acting fertilizer.
* Great partner: Foamflowers, foamybells or dark-leafed coralbells are good perennials for in front. White begonias are a good annual-flower partner.