Chokeberry 'Morton' (Iroquois Beauty)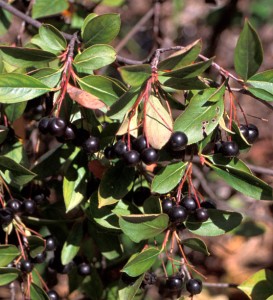 * Common name: Black chokeberry Iroquois Beauty(TM)
* Botanical name: Aronia melanocarpa 'Morton'
* What it is: A multi-stemmed native flowering shrub that gets clusters of small white flowers in May that lead to black berries in fall that birds love. You'll get fruit with just one plant, but several increases production. Foliage is glossy green in summer, turning to bright red in fall.
* Size: This variety from the Chicagoland Grows program is more compact than the species, growing only 3 to 4 feet tall with a 5- to 6-foot colonizing spread.
* Where to use: Flowers and fruits best in full sun but also does well in part shade and in both dry or wet soil. Compact enough for use around foundations. Ideal for a bird garden or along property borders as a fruiting hedge.
* Care: Improve soil with compost before planting. Keep well watered the first year until roots establish, then water needed only in bad droughts. No fertilizer needed. No pruning needed so long as size is OK. If pruning needed, do it sparingly at end of winter.
* Great partner: Dwarf goldenrod in sunny spots; golden reblooming daylilies in part shade.