Allium 'Summer Beauty'
* Common name: Allium 'Summer Beauty'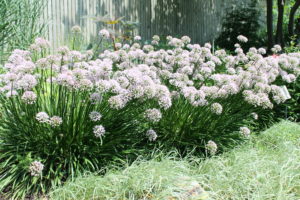 * Botanical name: Allium senescens var. montanum 'Summer Beauty'
* What it is: This winter-hardy bulb (technically a rhizome) produces strap-like leaves in spring, followed by soft-pink round flower clusters on long stalks from June into August. Being an onion-family plant, it's deer- and rodent-resistant. It'll return year after year and slowly expand. Won a 2016 Pennsylvania Horticultural Society Gold Medal Award.
* Size: 18 inches tall. Plant bulbs 12 inches apart.
* Where to use: Plant in clusters of at least three to five in border beds, perennial gardens or along walks, patios or driveways. Prefers raised beds and well drained soil; no soggy clay. 'Summer Beauty' will tolerate full sun but does best in morning sun and afternoon shade.
* Care: Plant bulbs in October or potted plants from the garden center in spring. Scatter an organic, granular bulb fertilizer over the bed each early spring and early fall. Snip off flower stalks when blooms fade but wait until foliage browns or at least yellows before cutting it. Dried flower heads can be left standing all winter, though, if you like that look. Cut all stalks and foliage to the ground by winter's end. Water usually not needed. These are drought-tough.
* Great partners: Pink shrub roses, dwarf panicle hydrangeas and abelia Pinky Bells are good shrub partners. Or interplant between boxwoods to give spiky contrast in a more formal garden.