Allium 'Star of Persia'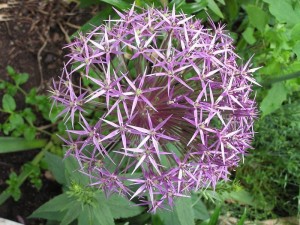 * Common name: Star of Persia
* Botanical name: Allium christophii
* What it is: A June-flowering bulb that's actually an ornamental onion. Tubular stalks arise from the bladed leaves to produce softball-sized flower heads of purple that look like stars exploding in a ball. Very distinctive and different. Deer and rabbits don't eat them either!
* Size: 14 to 20 inches tall. Plant bulbs 10 to 12 inches apart.
* Where to use: Plant in clusters of at least 3 to 5 in border beds, perennial gardens and along sunny walks or patios. A must for a children's garden. Full sun.
* Care: Plant in October. Scatter organic, granular bulb fertilizer such as Bulb-tone or Bulb Booster over the beds in early spring and early fall. Snip off flower stalks when blooms fade but wait until foliage browns or at least yellows before cutting it. Water not needed.
* Great partners: Pink roses, spirea 'Little Princess' or lavender.