10 Favorite Garden Catalogs
   I like to shop locally and support our central-Pennsylvania small businesses whenever possible. But sometimes I'm looking for offbeat stuff or unusual varieties that I can only get online or via mail-order.
   An excellent web site for consumer reviews of these and just about all other mail-order companies is Dave's Garden. It has a "Garden Watchdog" service that's akin to a Better Business Bureau for gardening. Search out companies and read reviews at http://davesgarden.com/products/gwd.
   Here are 10 of my favorite mail-order companies: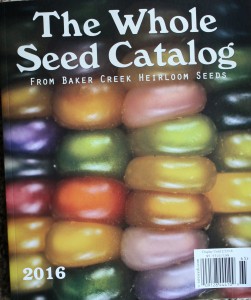 1.) Baker Creek Heirloom Seeds, Mansfield, Missouri. www.rareseeds.com. 417-924-8917.
   This down-home company has fast become THE source for all things heirloom. The flagship seed catalog is loaded not only with great old-time, non-Frankenfood varieties but some edible oddities you've probably never seen, like the Chinese red noodle bean, the jelly melon (an African cucumber-like fruit) and the 'Rat's Tail' radish (has edible seed pods).
   The paper catalog is big, informative and has the best photography of any catalog out there. It's earned a spot on the prestigious Dave's Garden Watchdog Top 30 of all companies.
   2.) Territorial Seed Co., Cottage Grove, Oregon. www.territorialseed.com. 800-626-0866.
   If you're a veggie gardener looking for excellent varieties — whether they're heirlooms or the latest, greatest hybrids — this is one of the best mainstream catalogs.  
   The artwork isn't the biggest or flashiest, but the selection is outstanding. You'll find lots of choices for every crop — not just two or three.   I've always had quick service, good seed germination and decent prices. One of Dave's Gardens Top 5 for vegetable seeds, too.
   3.) Jung Seed Co., Randolph, Wisconsin. www.jungseed.com. 800-297-3123.
   One of a 9-company operation (Totally Tomatoes, Vermont Bean Seed, R.H. Shumway Seeds, etc.), I like Jung because it's got a good mix of vegetables and flowers and tends to carry most of the new introductions.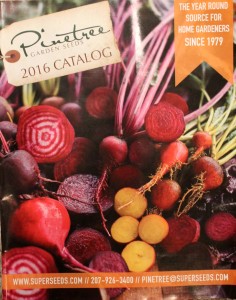 I've always received what I ordered pretty quickly and have had good results with the seeds. Another good mainstream choice.
   4.) Pinetree Garden Seeds, New Gloucester, Maine. www.superseeds.com. 207-926-3400.
   Experimenters and small-space gardeners should take a look at this family-owned company, which specializes in smaller packets at low prices.
   Instead of the $3 a pack that's become the norm, Pinetree keeps most choices under $2. Some are as little as $1.25 a pack?
   The selection isn't as broad as some catalogs, but it'll hold down your costs and give you better quality than the dirt-cheap, poor-quality choices sometimes found at bargain outlets. Offers both edibles and flowers.
   5.) Johnny's Selected Seeds, Winslow, Maine.  www.johnnyseeds.com.  877-564-6697. 
   Johnny's is an employee-owned company that has a nice selection of exclusive varieties as well as organic and heirloom options.
   It also carries most of the All-America Selections winners and other new intros, and it offers flowers and garden products in addition to its strong suit of veggie seeds. Another of Dave's Gardens Top 5 vegetable-seed sellers.
   6.) Brent and Becky's Bulbs, Gloucester, Virginia. www.brentandbeckysbulbs.com. 877-661-2852.   Run by some of the nicest people you'll ever meet, this is the place for ordering just about any spring or summer bulb you'd ever want to grow.
   You'll find endless variety choices in the most familiar bulbs (tulips, daffodils) but also a long lineup of really cool plants that you don't see just anywhere, like Allium christophii (an ornamental onion that blooms like a purple exploding star), a yellow-blooming blackberry lily called 'Hello Yellow,' and more than a dozen versions of fall crocuses.
   One of the Dave's Garden Watchdog's Top 30 of all companies.
 7.) Renee's Garden, Felton, Calif. www.reneesgarden.com. 831-335-8257.
  Also in the run-by-very-nice-people category is Renee Shepherd's Renee's Garden seed catalog. You'll find a nice mix of heirlooms and hybrids here and especially a good selection of old-fashioned "cottage-garden" flowers like zinnias, larkspur and cosmos in addition to herbs and vegetables.
   The web site is rich in info, too (i.e. building a vole-proof raised bed, attracting beneficial insects, when to plant what.)
   8.) One Green World, Molalla, Oregon. www.onegreenworld.com. 877-353-4028.
   For unusual edibles, this mail-order company has every fruit tree and fruit bush you've probably ever heard of — and then some.
   It's where I ordered a goumi berry, medlar tree and persimmon for my son, and it's a source for such fare as Asian pears, honeyberries, goji berries, jujubes, Cornelian cherries and an interesting selection of heirloom apples.
   The plants will be small, so be patient.
   9.) Planet Natural Garden Supply, Bozeman, Montana. www.planetnatural.com. 800-289-6656.
   If it's supplies and not plants you're looking for, this company specializes in all sorts of natural and organic gardening products.
   Been searching for Jamaican bat guano? Planet Natural has it. Compost tea bags? Check. Beneficial insects? Check. Neem oil for bugs? Check.
   My prize Planet Natural purchase was the stainless steel compost pail that I bought for under my sink. It's sturdy, doesn't rust and doesn't smell.
   10.) Gardener's Supply Co., Burlington, Vermont. www.gardeners.com. 888-833-1412.
   Hundreds and hundreds of yard and garden supplies are available at this employee-owned company, founded by a group of Vermont gardeners. Gardener's Supply offers just about everything from basics like fertilizers and plant supports to cutting-edge items like nitrile gloves and grow bags to bigger-ticket items like grow-light systems and teak furniture.
   Other than seeds and plants, if it has to do with gardening, odds are you'll find it at Gardener's Supply. Has a very good customer track record at Dave's Garden Watchdog.
   11.) Kinsman Co., Pipersville, Pa. www.kinsmangarden.com. 800-733-4146.
   OK, I couldn't stop at just 10. Here's a bonus pick.
   Not as big or well known as Gardener's Supply, this Bucks County-based company has a pretty decent lineup of gardening accessories, including fertilizers, plant markers, a nifty garden labeler and hand tools.
   But its strongest suit is in unusual planters and plant supports. Some of the neatest are the "basket columns" (a way to turn your pots into mini-trees), the Down Under Pots (the plants grow out the bottom instead of the top) and a nice variety of metal hayrack planters, window boxes and multi-level planters.