Cucumber 'Orient Express'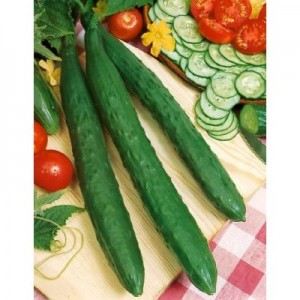 * Common name: Cucumber 'Orient Express'
* Botanical name: Cucumis sativus 'Orient Express'
* What it is: Why pay $2 apiece for those long, tender, slender, shrink-wrapped cucumbers at the supermarket when you can grow your own for pennies each? 'Orient Express' is one of the best varieties of this type… burpless, extra long and tender enough that you can eat the skin as well as the flesh.
* Size: Plants will grow 6 to 8 feet up a trellis. Fruits are 10 to 12 inches each.
* Where to use: Mainly vegetable gardens, but any sunny, well drained spot will do.
* Care: Plant seed directly in garden in May and then every 2 weeks through June for a continuous harvest. Keep soil consistently damp. Work compost into soil at planting, then scatter a balanced organic fertilizer around the base every 3 or 4 weeks. Cukes are best trellised rather than let to sprawl over the soil. Watch for and control cucumber beetles.
* Great partner: Carrots, beets, lettuce and/or Swiss chard.