Tricolor sage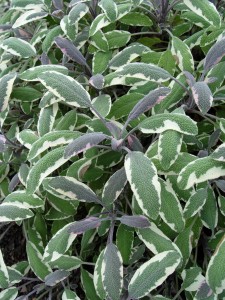 * Common name: Tricolor sage
* Botanical name: Salvia officinalis 'Tricolor'
* What it is: An edible herb, this fuzzy-leafed perennial is just as often grown as an ornamental for its beautiful variegated leaves of green, white and purple.
* Size: 15 to 18 inches tall and wide.
* Where to use: Herb garden, vegetable garden, edging a vegetable-garden fence or in any sunny pot or flower garden where you'd like a foliage accent. Not fussy about heat, drought or rocky soil.
* Care: Cut to a stub at end of winter. Pinch off any flower spikes if you don't like them. Water for the first few weeks until roots establish, then little to no water needed. Fertilizer also usually not needed. Snip off leaves anytime you want sage for a meal.
* Great partner: Purple petunias and/or shrub roses.