Clematis 'Madame Julia Correvon'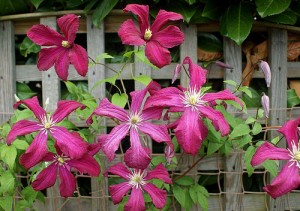 Common name: Clematis 'Madame Julia Correvon'
* Botanical name: Clematis viticella 'Madame Julia Correvon'
* What it is: A woody-stemmed, twining vine that produces rosy-red petaled flowers in early summer.
* Size: Can climb 8 to 10 feet up a trellis by summer's end. Space 3-4 feet apart if planting more than one per support.
* Where to use: Ideal grown up trellises along a patio for privacy and color both. Also nice grown up an obelisk as a garden centerpiece or on lattice along a property line. Full sun/part shade.
* Care: Scatter organic granular fertilizer such as Flower-tone or Plant-tone around base of vines in March. Cut vines to about 8 inches in late March or early April to just above live buds. Keep damp the first season, then water only if drought hits. Appreciates 2-3 inches of mulch over the roots at all times.
* Great partner: Purple petunias or angelonia 'Serena Purple' and/or 'Serena White.'