Pennsylvania sedge
* Common name: Pennsylvania sedge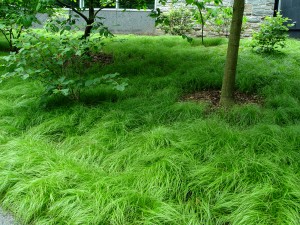 * Botanical name: Carex pensylvanica
* What it is: A soft, arching, grass-like perennial with light-green blades. Grows in clumps in a wide range of conditions, preferring shade and damp soil but tolerating sun and drier soil, too. A Pennsylvania native.
* Size: 12-15 inches tall. Plant 2½ feet apart. Clumps slowly expand as opposed to sending out runners.
* Where to use: Excellent textural edging plant along a shady walk, shady driveway or water garden. Also makes a good groundcover massed under trees or in any woodland garden.
* Care: Cut to a stub at the end of winter or any time after frost browns out the foliage in fall. A light scattering of a granular fertilizer rich in nitrogen in March is usually enough for the season. Doesn't need to be divided but can be by digging the whole plant in early spring and cutting the root clump into fist-size pieces.
* Great partner: Golden or lime-leafed hosta or coralbells, or in damp shade, ligularia 'Britt-Marie Crawford.'
— George Weigel