Japanese forest grass 'All Gold'
*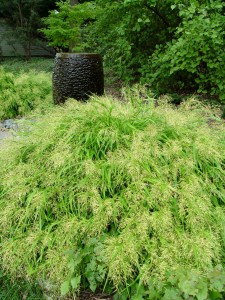 Common name: Japanese forest grass 'All Gold'
* Botanical name: Hakonechloa macra 'All Gold'
* What it is: A soft, graceful ornamental grass with lime-gold arching blades. Plant is nearly covered with dainty seedheads atop the plant by late summer.
* Size: 18 inches tall with a 3-foot spread. Spreads slowly in a clump as opposed to invasive runners.
* Where to use: Excellent textural edging plant along a shady or partly shady walk, driveway or water garden. Also nice massed under trees or in any woodland garden. May bleach or brown in full sun.
* Care: Cut to a stub after frost browns out in fall or at the end of winter. A light scattering of a balanced granular organic fertilizer such as Plant-tone in March is usually enough. Seldom needs to be divided, but pieces can be transplanted in early spring if it creeps beyond where you want it. Prefers damp soil, so water in droughts.
* Great partner: Green or gold-edged hosta, ligularia or lady's mantle (other shade-preferring perennials with nicely contrasting wide leaves).