News from the Garden Front
May 10th, 2011
   Lots going on and coming up. Here's a rundown…
Community Garden extraordinaire
   Our area's newest community garden opened last week next to the Ames True Temper plant at 465 Railroad Ave., Hampden Twp. I'm impressed.
   It's nearly 2 acres in size and completely fenced in (including a rabbit fence).
   What's especially different is that the whole lot is lumber-edged raised-bed gardens — three different sizes and 129 raised beds in all.
   There's also a gazebo in the middle (surrounded by flowers), and a large tool shed filled with Ames True Temper tools that the gardeners get to use for free.
   The Ames True Temper folks (who built this generous garden) also installed water outlets with hoses so every plot is reachable. No lugging buckets.
   The water's free and so are the plots. Area residents were smart enough to suck up this offer fast. All plots are taken with 30 people on the wait list.
   Penn-Cumberland Garden Club handled reservations and outreach, plus the club lined up an excellent series of garden talks this summer. Those are free, too, and open to the public.
   I did the maiden talk last Friday on how to get the most out of raised beds. Here's the rest of the lineup:
   May 13, 6 p.m. Seppi Garrett on square-foot gardening.
   May 14, 9 a.m. Hershey Gardens on organic sprays and fertilizers.
   May 20, 6 p.m. Sue Parry on pizza gardens and companion planting.
   May 21, 9 a.m. Carl Hursh on composting.
   June 3, 6 p.m. Janelle Winey demonstrating Ames True Temper tools.
   June 11, 9 a.m. Hershey Gardens on staking plants.
   July 9, 9 a.m. Hershey Gardens on integrated pest management.
   Aug. 13, 9 a.m. Hershey Gardens on cool-season crops.
   Aug. 19, 6 p.m. Erica Shaffer on late-season crops.
   Sept. 10, 9 a.m. Hershey Gardens on soil amendments.
   Whether you go for a talk or not, have a look at what ATT did with this formerly wasted grassy lot.
Plant a Row
   My favorite garden-related charity, Plant a Row for the Hungry, heads into its 17th year locally this season.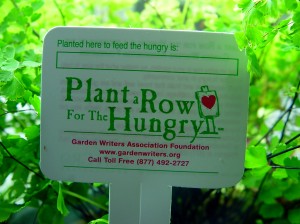 The idea is to pick all garden produce and donate the surplus through one of 10 drop-off points in the Harrisburg area — or better yet, plant a row or two specifically to donate.
   Channels Food Rescue of Harrisburg picks up the produce and delivers it the same or next day to dozens of feeding programs in Dauphin and Cumberland counties. Over the years, nearly 23 tons of fresh garden produce has been rescued from waste.
   I've got a whole page on this site devoted to the program. It includes this year's drop-off points. Click here https://georgeweigel.net/plant-a-row-for-the-hungry.
   Double bonus: Channels, Penn-Cumberland Garden Club and Ames True Temper are working on getting a drop box placed at the new Ames True Temper Community Garden to make it easy for those folks to donate.
 Newest Garden Center
   Did you know that Black Landscape, one of central Pennsylvania's best landscapers, now has a garden center?
   It's called Black Landscape Center, and it's located at 1360 E. Lisburn Road, Upper Allen Twp., just west of the four-way stop sign in Lisburn.
   The center celebrated its one-year anniversary this past weekend. It's a full-service place (garden supplies, bulk mulch, bagged goods, etc. in addition to all sorts of plants) and is open six days a week (plus Sundays in May from 10 a.m. to 2 p.m.)
   If you've been going to the Pennsylvania Garden Expo since the beginning, Black built a few landscape displays in the early years that were of Philadelphia Flower Show-caliber quality.
   More information: www.blacklandscape.com.  
Greener Plants
   The gardening industry's newest branded plant line is one aimed at the eco-friendly audience — especially those concerned about clean water. 

   Virginia-based Eastern Shore Nursery has launched a line of 400 trees and shrubs being sold under the "Greener Plants" label. The 8-store Stauffer's of Kissel Hill chain is carrying the line locally.
   Eastern Shore worked with the Chesapeake Bay Foundation to tailor its growing practices to protect streams, creeks and ultimately the Chesapeake Bay.
   That included recycling irrigation water, collecting rainwater, regrading its growing fields to keep runoff out of streams and using more targeted, slow-release fertilizers.
   Through its web site at www.greenerplants.com and point-of-sale materials, Eastern Shore offers such tips as using more drought-tolerant species, mulching to reduce evaporation, switching to organic or slow-release fertilizers and watering smarter.
   A percentage of the sales from Greener Plants is to be donated to the Chesapeake Bay Foundation.
 Master Gardener Plant Sale
   Finally, Cumberland County Master Gardeners' annual Plant Fest and Sale keeps getting bigger and more diverse.
   Far more than a sale of dug-up divisions from a few people's yards, this sale features 20 kinds of hybrid and heirloom tomatoes, other herbs and veggies, dozens of native and bird-attracting perennials and grasses, garden books, garden magazines and a "Gardener's Yard Sale" featuring an eclectic mix of gently used pots, tools, accessories and such at bargain prices.
   The sale takes place Sat., May 21, from 8 a.m. to 1 p.m. at the Trial and Idea Garden, on the grounds of the Claremont Nursing and Rehab Center, corner of Claremont Road and Army Heritage Drive just outside of Carlisle.
   The place will be crawling with Master Gardeners, too, who will answer your gardening questions and tell you what that nasty white stuff is that's growing on your plants.