My 10 Favorite Gardening Books of 2015
December 8th, 2015
Every year brings a fresh crop of new gardening books. The potential for new topics, new twists, and new ideas never ends, just as in the garden itself.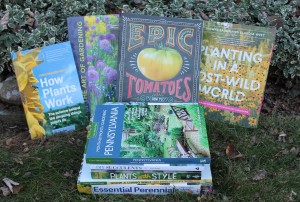 Whether you're looking for gift ideas for the gardener on your holiday list or interested in beefing up your own plant prowess over the winter, here are my 10 favorite new titles that germinated in 2015:
   1.) "The Art of Gardening" by the Chanticleer Gardeners and R. William Thomas
(Timber Press, $34.95 hardcover)
   What It's About: Chanticleer – the "pleasure garden" in Delaware County – is one of my favorite gardens. It's a dynamic public garden for gardeners, by gardeners. And each of the 15 staff artists (they're more than gardeners) are free to be creative in the areas they oversee. "Gardening without a net" is how horticulturist Dan Benarcik describes it.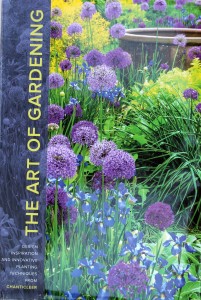 The brilliant part about this book (tops on my 2015 list) is that it takes you into the minds of this talented, free-wheeling team. That lets you become sort of "apprentices" as Thomas (Chanticleer's executive director) and company give you insight into how they pair plants, use colors and get cutting-edge groundcovers to thrive among the big roots of shade trees where your plantings likely fizzle.
Rob Cardillo's photos are also, as usual, world-class.
Good Choice For: Anyone looking for ideas, inspiration and know-how to take their landscape to a new level. Even very experienced gardeners will get plenty out of this one.
   2.) "Planting in a Post-Wild World" by Thomas Rainer and Claudia West
(Timber Press, $39.95 hardcover)
   What It's About: An American landscape architect and German landscape designer pair up for this cutting-edge game plan on the "new nature" where gardens and buildings co-exist.
The point here is that there's no sense complaining about meadows and forests lost or trying to put things back the way they were. Rather, we should make the most out of what we have by smartly planting the dotted remains of nature, i.e. our back yards, our roadsides and our parking-lot medians.
That includes preserving native plants as well as embracing non-natives in ways that are both attractive and maintainable for us but also helpful to wildlife and ecology in general.
The book gets a tad technical in spots, but overall, it's a common-sense approach that transcends the over-simplified "plant-nothing-but-natives" approach.
   Good Choice For: The gardener who also likes birds, bees, butterflies and unpolluted environments in addition to plants.
   3.) "Epic Tomatoes" by Craig LeHoullier
(Storey Publishing, $19.95 paperback)
   What It's About: You like tomatoes? Here's your manifesto from arguably the world's biggest tomatophile.
You'll find 256 pages devoted entirely to selecting and growing the absolute most delectable tomato fruits.
The author says heirlooms are the way to go, and he lays out his arguments for them, tells how to keep them from getting diseased, and recommends which ones to try (250 on his list).
   Good Choice For: Anybody who grows tomatoes will benefit from the detailed advice, but it's the Holy Grail for those into heirloom tomatoes.
   4.) "How Plants Work" by Linda Chalker-Scott
(Timber Press, $19.95 paperback)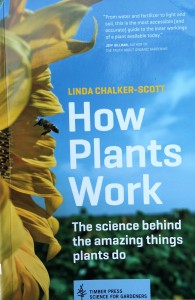 What It's About: If you're the curious sort who's wondered things like how plants know when it's time to send up shoots in spring or why leaves turn red in fall, you'll like this little book of plant secrets.
Although it's a bit "sciencey," the book is filled with explanations for many of the fascinating things plants somehow "know" how to do. The practical part of that: the more we understand how plants operate, the better we're going to be at making them grow.
If you've read Chalker-Scott's other books or follow the Garden Professors blog, you'll know she at least tries to make talking about mitochondria and chloroplasts as fun and understandable as possible.
   Good Choice For: Gardeners who are as intrigued by the why's as much as the how's. Also for garden professionals and anyone with an engineering or science bent.
   5.) "Outstanding American Gardens," edited by Page Dickey
(Abrams, $50 hardcover)
   What It's About: This one's a book commemorating the 25th anniversary of the New York-based Garden Conservancy (a non-profit dedicated to saving and sharing great American gardens) by showcasing 50 of the gardens it's preserved or displayed.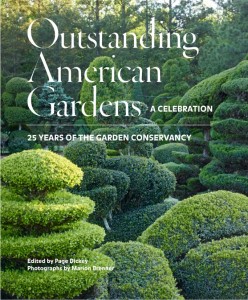 It's sort of a garden tour in print as 194 photos show you the plants and gardens, and the text introduces you to the gardeners behind each of the varied gardens.
You'll find eight of the more than 100 gardens that the Garden Conservancy has kept alive since its founding in 1989 as well as 42 of the more than 3,400 gardens (many in the mid-Atlantic region) that have been opened to the public during the Conservancy's annual Open Days program.
   Good Choice For: People who like to go on garden tours and see private home gardens. It's also a good idea book, ideal for winter browsing and dreaming.
6.) "Plants With Style" by Kelly Norris
(Timber Press, $24.95)
   What It's About: Plants take center stage in this lively read from one of the most passionate plant-lovers you'll encounter, a fellow who believes that "a garden is the best way to savor life on earth."
Norris is the horticulture manager at the Des Moines Botanical Garden in Iowa but more so a gardener who gets most excited by new and different plants that thrive, thrill and entertain, not just survive.
Expect that to be contagious as you read about the cool new foamybell varieties, salivate over 'Limelight' salvia with its glowing lime leaves, and marvel at the 'Sem' sorbaria that's out there if you know to look for it.
   Good Choice For: Plant geeks
7.) "Essential Perennials" by Ruth Rogers Clausen and Thomas Christopher
(Timber Press, $39.95 hardcover)
   What It's About: Here's another plant book – specifically one focusing on perennial flowers… 2,700 of them to be exact.
Unlike Norris's "Plants With Style," which treats plants like personal friends, this one is a reference that lays out the encyclopedic nuts and bolts of just about any perennial you'd want to grow – size, bloom time, light requirements, favored sites, best varieties, etc.
   Good Choice For: Research-oriented plant geeks who prefer botanical names to exclamation points.
8.) "Grow a Living Wall" by Shawna Coronado
(Cool Springs Press, $24.99 paperback)
   What It's About: Stamp out bare, boring fences and walls forever with this idea book on gardening vertically.
As opposed to vines, "Grow a Living Wall" is about using window boxes, fabric planters, mounted baskets, hanging pallets, Mason jars and more into lush gardens attached to your walls and fences.
Once you decide on the soil-holding gizmo, you can grow everything from a pollinator-attracting flower garden to dinner in previously wasted space. It's an idea that's been trendy lately, too.
   Good Choice For: People with small, enclosed yards or limited growing space. If you like Pinterest, you'll like this, too.
9.) "DIY Succulents" by Tawni Daigle
(Adams Media, $18.99 paperback)
   What It's About: Succulents are such versatile, colorful and hard-to-kill plants that it's no wonder they're catching on big-time lately.
But succulents are trendy not only among the low-care gardening crowd. They've also become a hot decorating item, which is the focus of this photo-rich idea and instructional book.
You'll find step-by-step tips on three dozen DIY projects you can do with succulents, such as succulent bouquets, succulent napkin rings, succulent birdhouse roofs, and succulent wreaths.
The book includes growing tips and a helpful section on how to propagate succulents to expand your flock for free.
   Good Choice For: Decorators and garden crafters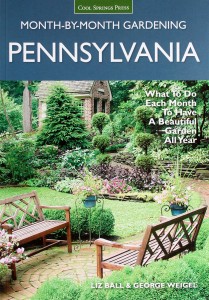 10.) "Pennsylvania Month-by-Month Gardening" by Yours Truly
(Cool Springs Press, $24.95 paperback)
   What It's About: I wasn't going to mention my own book, but then I got to thinking that if anyone else would have written it, I would've included it here because it's such a useful and locally targeted book.
"Pennsylvania Month-by-Month Gardening" is like a very fat to-do list that gives you 240 pages worth of practical, hands-on, Pennsylvania-geared tips to help you know when to do what around the yard.
The format is set up like a gardener's planner with each monthly chapter broken down into the different kinds of jobs (Plan, Plant, Problem-Solve, etc.) Then under each job, tips are laid out for each category of plants (Annuals, Perennials, Bulbs, Shrubs, Trees, etc.)
I'll sign a copy for you (or for your gift recipient) and pay the sales tax if you order it through the George's Helpful Info page of my website.
   Good Choice For: Any Pennsylvania gardener trying to keep a yard looking good, whether rookie or "senior."