Free Gardens
March 1st, 2011
   Here's a deal that's almost too good to be true… a free garden plot, free water and free use of tools.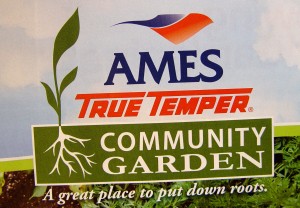 All you've got to do is round up a few seeds and plants and get up the gumption to go to Ames True Temper near Shiremanstown to take advantage of this generous offer.
   Ames True Temper just got Hampden Twp. approval to turn a nearly 2-acre grass plot next to its headquarters at 465 Railroad Ave. into a fenced-in community garden of 150 raised beds.
   The company is giving FREE USE of these plots to anyone in the area who'd like to sign up. There's no catch, no hidden motive, no surprise expense that you find out about later.
   You just have to agree to the rules (things like no drinking, no letting your crops flop onto the neighbor's plot, no swiping the tools, etc.), and you've got a free garden.
   What happened was that this 200-year-old tool company sold last year to the Griffon Corp. As a sort of going-away present to the community, the former owner, Castle Harlan Inc., donated $100,000 to the company's charitable fund.
   I met Duane Greenly, the company's CEO, at last weekend's Pennsylvania Garden Expo, and he said a community garden was a natural fit for a company that makes just about every people-powered yard tool you can imagine.
   Turns out Duane is an avid gardener himself and knows the widespread good of getting hands in the Earth. Like me, his favorite activity is taking a peaceful stroll around the yard to see what changed from the day before.
   He says a free community garden like this gives folks a chance to garden who just don't have their own space.
   It also helps those who don't garden because they don't have or can't afford the tools or the water. It even addresses the excuse, "But I don't know how."
   The beauty of this garden is that it removes every hurdle except flat-out lack of motivation.
   For one thing, all of the plots will be raised beds, which is by far the best way to grow a successful vegetable garden.
   Second, Ames True Temper will stock a tool shed within the garden so no one has to lug tools back and forth – assuming they own tools in the first place. Being North America's market leader in non-power lawn and garden tools, the company will have no problem with that.
   Third, the company plans to run hoses through the garden so gardeners won't have to lug buckets of water from pumps, which discourages people in many community gardens.
   Fourth, with the help of radio host and local arborist Bob Carey, the company recruited Penn-Cumberland Garden Club to help with sign-ups and with running workshops to help newbies figure out what they're doing.
   A changing team of Penn Cumberlanders (plus Duane himself) staffed a booth at Expo over the weekend to sign up the first 30 takers.
   I'll be doing the first of the how-to workshops on Fri., May 6, at 6 p.m. at the gardens, which are scheduled to be ready to plant by May 1.
   Although it's not required, the company is hoping that the gardens yield at least some produce that's donated to local food banks and anti-hunger programs. This would be a perfect service project for Scout groups, church groups and other civic-minded organizations.
   It's such a worthy idea on so many fronts. And it's been well thought out, too, with excellent provisions for security and heading off gardens that start to turn into untended jungles by August.
   The main thing that concerns Duane is the response.
   "That's what worries me most," he said, "that people won't sign up."
   I would hope that doesn't turn out to be the case. Interest in vegetable-gardening is higher than I've seen it in decades, so the timing seems right.
   Plus, the huge majority of people don't grow ANY of their own food, so I have to think the potential is there to fill these plots in no time.
   If you're interested or know of someone within a few miles of the Ames True Temper plant (between Simpson Ferry and Trindle roads just outside of Shiremanstown), make the call.
   You've got no excuses now.
   Plots are available in three sizes – 6-by-9 feet, 8-by-18 feet and 16-by-18 feet.
   Contacts at Penn-Cumberland Garden Club are Francesca McNichol at 795-9585 or iimagine27@aol.com and Amy Hatfield at 766-8927 or amyhat@verizon.net.
   At Ames True Temper, the contact is Sue Harley at 730-2619 or sue.harley@amestruetemper.com.