New Magazine and a Change at the York Garden Show
December 7th, 2010
   Two bits of news this week: A new bimonthly magazine aimed at gardening in Pennsylvania is debuting in January, and York's Mid-Atlantic Garden Show has changed hands.
   The new magazine — yes, a paper one like in the good 'ol days — is the work of Louisiana-based State-by-State Gardening Magazines, which produces magazines geared toward individual states. Now in its 11th year, the company so far does issues in 12 states (mostly in the South and lower Midwest) and in 2011 is adding Ohio, Missouri and Indiana in addition to Pennsylvania.
   As with other state issues, Pennsylvania Gardener will include regional gardening advice, how-to articles, color photography, tips on what needs done each month in the garden, good plants for Pennsylvania landscapes, a calendar of events, an "Ask the Expert" feature in which questions are answered by regional experts, profiles of interesting Pennsylvania gardens and assorted features.
   The magazine recruits regional writers to localize each of its issues. I'll be one of the contributors. In the first issue, I've got a piece ready on the 10 vegetables that give you the most return for your money. In the March/April issue, I'll be writing about the arrival of the emerald ash borer that threatens our ash trees. And for summer, I'm working on a profile of the superb home garden of Jenny Rose Carey, director of the Temple University Arboretum in Bucks County.
   Home subscriptions to Pennsylvania Gardener are $19.95 for a year (six issues). Subscribers also get a State-by-State Gardening Discount Card, which is good for 10 percent off at participating garden centers. A list of participants will be included in each issue of the magazine and on the magazine's website.
   More information is available by calling toll-free 888-265-3600 or visiting online at www.pagardener.com.
   As for York's garden show, Goodrich Promotions of Mechanicsburg is getting out of the show business and decided to cancel the 18-year-old York Mid-Atlantic Garden Show.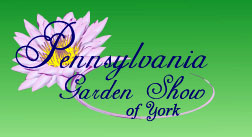 However, Rick Jacobus — a landscaper who had built display gardens there for 13 years — is saving it from death by resurrecting the show under a new name.
   It'll now be called the Pennsylvania Garden Show of York.
   "It'll be in the same location and have the same setup," says Jacobus, who owns the Weigelstown-based Meadowview Gardens. "We have most of the vendors lined up already and have all the landscapers."
   The show will take place Thursday, March 3, through Sunday, March 6, in the Toyota Arena of the York Fairgrounds, 334 Carlisle Ave., York. Tickets will be $10 for adults, $8 for senior citizens and free to children under 12.
   Jacobus says he's shooting for around 70 vendors in the marketplace and will have a dozen landscape displays — up a bit from the 8 or 9 that's been the norm the last couple of years.
   The 2011 theme will be "Romantic Gardens," and it'll include a free rose for everyone at the entrance, a "Sweetheart Day" in which sweeties get a discount, and give-aways for dinner and a weekend get-away to Inner Harbor.
   More information is on the new show web site of www.pagardenshowofyork.com.
   Goodrich Promotions had run the York Mid-Atlantic Garden Show for the last two years but has decided to pull out of shows, including the York Folk Art and Craft Show, the Antiques Show of York and the Carlisle Folk Art and Craft Show.
   Before that, Kondor Media of York had run the show between 2002 and 2008. Larry Shaffer of York radio fame started the show 18 years ago.