Rose Pink Drift(R)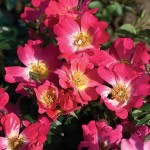 Common name: Rose Pink Drift(R)
* Botanical name: Rosa 'Meijocos'
* What it is: A compact, long-blooming, disease-resistant rose with a low, arching habit that's marketed as a "groundcover rose. Pink Drift has deep-pink petals with white throats and is arguably the best of the new 6-color Drift series.
* Size: 18 inches tall, space 3 feet apart.
* Where to use: Massed on sunny banks, in sunny borders, lining driveways or clustered in sunny beds under limbed-up trees. Full sun/light shade.
* Care: Scatter organic granular fertilizer such as Holly-tone or Rose-tone around base in March. Keep damp the first season, then water only if drought hits. Shear back to 6 inches at end of each winter for best bloom and to maintain compact size. No need to prune in massed, groundcover settings. Spraying not needed.
* Great partner: Upright junipers, Hinoki cypress or ornamental grasses.