Climbing rose 'New Dawn'
* Common name: Climbing rose 'New Dawn'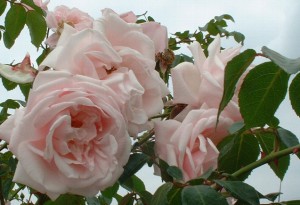 * Botanical name: Rosa 'New Dawn'
* What it is: One of the more disease-resistant and longest blooming climbing roses. Flowers are moderately fragrant, double-petaled and light pink in color. June is the prime show, but 'New Dawn' is good at sporadic repeat flowering throughout the season.
* Size: Grows 8 to 10 feet tall with support (you'll have to tie or guide since roses don't cling on or twine up supports on their own).
* Where to use: Grow up any trellis, arbor or pergola. Or train to ramble across a picket fence. With guidance, will also meander up and out the branching of a small tree. Flowers best in full sun to light shade.
* Care: Scatter organic granular fertilizer formulated for roses around the base in March and again in June. Work compost into the soil at planting. Keep consistently damp for best performance (water the soil, not over the leaves) but can go without water except in extended hot, dry spells. Starting in year 3, thin out excess branches and shorten overly long arms at the end of each winter. Mound 3 to 4 extra inches of mulch around the base to insulate the crown over winter.
* Great partner: Purple salvia or lavender are two good color-coordinated perennial partners. Pair with boxwoods for a more formal, Colonial look.