Coneflower 'Tomato Soup' & 'Mac n' Cheese'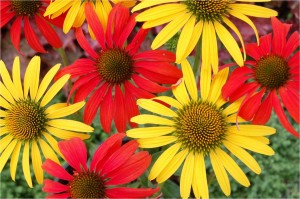 Common name: Purple coneflower 'Tomato Soup' and 'Mac 'n Cheese'
* Botanical name: Echninacea purpurea 'Tomato Soup' and 'Mac n' Cheese'
* What it is: Two new perennial coneflowers in bright new colors. 'Tomato Soup' is vibrant red, 'Mac n' Cheese' is yellow. Both hold color well and bloom July into early fall. Tough in heat and drought.
* Size: 24 to 28 inches tall. Space 2 feet apart.
* Where to use: Perennial borders, cut-flower gardens, any sunny bed or bank. Full sun/light shade.
* Care: Keep damp the first season, then water usually not needed. Scatter balanced organic granular fertilizer such as Flower-tone or Plant-tone over the bed in early spring. Snip off flower stems after bloom to encourage more flowering. Cut all brown growth to ground at end of winter. Can be divided late March through April.
* Great partner: Each other and/or gold-needled falsecypress or juniper.