Red-twig dogwood 'Midwinter Fire'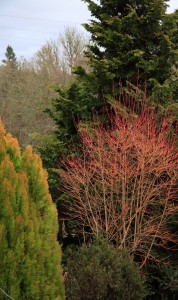 * Common name: Red-twig dogwood 'Midwinter Fire'
* Botanical name: Cornus sanguinea 'Midwinter Fire'
* What it is: A Pennsylvania Gold Medal award-winning multi-stemmed shrub whose best feature is the bright red-tipped golden stems in winter that glow after the leaves drop. Gets small, non-showy, late-spring white flowers and some black berries in spring that birds eat. Golden fall foliage.
* Size: 5 feet tall, 6 feet across.
* Where to use: Best along the back border in front of evergreens where those brilliant stems make a great back-window view after a snow. Also good as a tall shrub along any border or as a woodland-edge planting. Full sun or part shade. Adaptable to damp or dry soil.
* Care: Let bare stems up all winter, then cut the whole plant to 1 foot at winter's end. New wood gives brightest winter color. Water the first year, then watering needed only in a drought. Fertilizer usually not needed. Shovel out any suckers that are colonizing where you don't want the plant to spread.
* Great partner: Arborvitae, cryptomeria, spruce or fir make good evergreen backdrops. Winterberry hollies and browned-out ornamental grasses are good winter-interest partners.